FACILITY EXPLORER CONTROLLERS PLATFORM
FX03
Configurable Terminal Unit Controller
The FX03 is a Configurable Terminal Unit Controller in the Facility Explorer range of products.

The controller is designed specifically to provide direct digital control of terminal unit applications with heating and/or cooling coils, an electric heater and a 3-speed or variable speed fan.

These applications include close control units, fan coil units, unit ventilators and chilling or heating ceiling beam installations.

The device can be configured by the installer, without the need of a PC and software tool, using a set of on-board dip-switches.

The controller is designed for field installation in a panel or enclosure or for mounting by original equipment manufacturers (OEMs) on DIN-rail or directly on a surface.

The space comfort set point, occupancy mode and fan speed may be adjusted from a wide range of room sensor modules with options for a digital display.

Communication options are available to enable the controller to be integrated into an N2 Open or BACnet® network of a building automation system.

The BACnet interface of the controller complies with the ANSI/ASHRAE Standard 135-2004 for sharing data with other devices on the network.
Features
Field Selectable application type, communication protocol and room module, via dip-switches on controller
230 VAC power supply
5 VDC / 15 VDC / 24 VAC power supply for Field Devices, directly provided by the controller
Modular range of Room Sensor Modules
Network Communications Options - N2 Open and BACnet MS/TP
BACnet MS/TP with Peer to Peer communication
Configurable using FX Tools
Download the specification in Pdf format here Download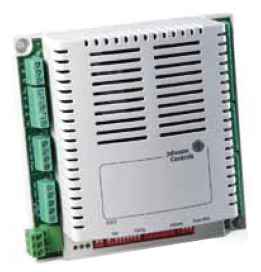 FX03 - Configurable Terminal Unit Controller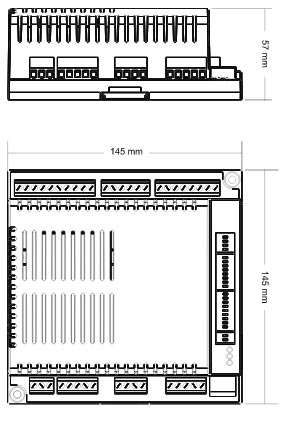 Dimensions in mm