MASTER CONTROLLER
FX16
function - MASTER/SLAVE
The FX16 Master Controller is a high performance field controller in the Facility Explorer system designed for commercial Heating, Ventilating, Air Conditioning, and Refrigeration (HVACR) applications such as chillers, rooftops, packaged air conditioning units, Air Handling Units (AHUs) and close control units. The FX16 has 27 physical inputs and outputs and supports a wide range of temperature sensors and actuating devices. Up to 64 additional physical inputs and outputs may be achieved by adding XT/XP expansion modules.

The FX16 can manage a distributed control application with up to 16 FX slave controllers (FX05 Advanced, FX06, FX07, FX14, FX15). Parameters in the distributed control application can be displayed and modified from the optional user interfaces.

The FX16 also features communications services to transmit event notification messages via Short Messaging Service (SMS) or by e-mail. With its onboard Web server, you can browse and make adjustments to parameters of the application from a remote location.

The FX16 Master Controller is fully configurable or programmable, using the FX Tools software package, for a wide range of commercial HVAC and refrigeration applications. The FX16 Master Controller is available with an optional serial communication card for integration into an N2 Open, LONWORKS® or BACnet compatible Building Automation System (BAS).
Features
Distributed control application
Embedded Web serverB
Communication services
Modular communication card options
Freely programmable or configurable using FX Tools software package
Onboard trend and event logging
Software selectable analog inputs
Optional integral or remote User Interfaces (UI)
Download the specification in Pdf format here Download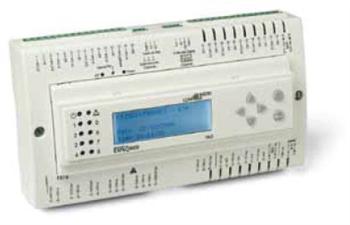 FX16 - Master Controller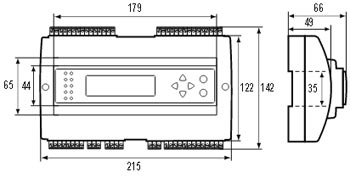 Dimensions in mm