ROTARY ACTUATORS
Standard Family
M91xx-xxx-1N(1)
(Joventa DAS-DMS/DA-DM/DAL-DML/DAG-DMG)
8, 16, 24 and 32 Nm, Non Spring Return
The Standard electric actuators have been specially designed for use with small and medium-sized air dampers and for terminal control units in air volume control systems.

Thanks to their very small size and clever construction they are also ideal for applications where space is limited.

A key feature of the design is the special Johnson Controls spindle adapter which also incorporates angle-of-rotation limiting and position indication.
Features
ON/OFF, Floating and Proportional Control
Load independent running time
Paralleling of up to 5 actuators possible
Screw terminal connections
Universal adapter for: round spindles from 10 to 20 mm dia. or Square spindles 10 ...16 mm with min. 48 mm ax length
Choice of rotation z Angle-of-rotation limiting
Manual control by pushbutton
2 auxiliary switches z Automatic end stops
Power saving at end stops
Customising available
IP54
Download the specification in Pdf format here Download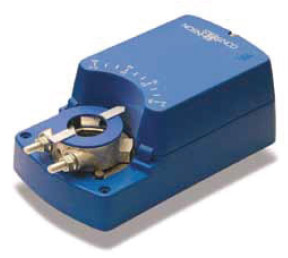 M91xx-xxx-1N(1) - Rotary Actuators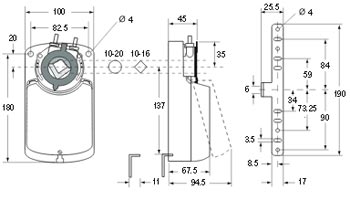 Dimensions in mm