ROTARY ACTUATORS
Spring Return Family
M9208-XXX-1
(Joventa DBF1.06 / DAFx.06 / DMF1.06)
8 Nm
The spring return electric damper-actuator series has been specially developed for the motorized operation of air dampers in air conditioning systems.

When the control signal is applied the actuator drives the damper to the operational position, while evenly tensioning the integrated spring. After a power failure the stored energy in the spring immediately brings the damper to the safety position.

Manual operation is automatically cancelled when the actuator is in electrical operation.

The compact design and universal adapter fitted with limitation of rotation angle make this actuator highly versatile.
Features
ON/OFF and Floating control signal
Up to 5 actuators in parallel operation possible
Electrical connection with halogen-free cable
Simple direct mounting with universal adapter on Ø 8 mm to 16 mm shaft or 6 mm to 12 mm square shaft. An optional M9208-600 Jackshaft Coupler Kit is available for 12 to 19 mm round shafts, or 10 mm to 14 mm square shafts
Limitation of rotation angle
Manual positioning with crank handle
2 auxiliary switches, 1 adjustable
Download the specification in Pdf format here Download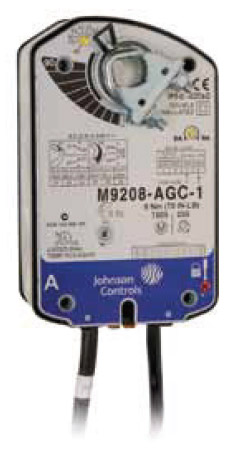 M9208-XXX-1 - Rotary Actuators, Spring Return Family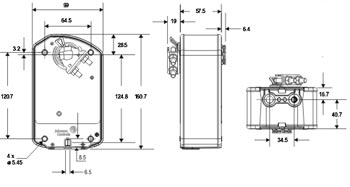 Dimensions in mm