LINEAR ACTUATORS
for Plant Valves
RA-3000
Floating and Proportional Controls
The RA-3000 series synchronous motor-driven reversible actuators are available for 3-point (floating) or with electric positioner for 0...10 V control.

They feature factory calibrated pressure switches to provide specified close-off ratings. These actuators are available in three sizes with 1600 N, 1800 N and with 3000 N nominal force and can be used with JC flanged valves according to maximum close-off pressure ratings specified.

Factory fitted options, such as 2kOhm feedback potentiometer, auxiliary switches and hand crank are available.
Features
Uses synchronous motor with pressure switches
Special clamp coupler quick-fit systems
Models for 3-point and proportional 0...10 VDC control
Positioner with adjustable starting point, span, and direct/reverse action
Active 0...10 VDC position feedback on proportional models
Optional auxiliary switches and feedback potentiometer available
Optional hand crank
Download the specification in Pdf format here Download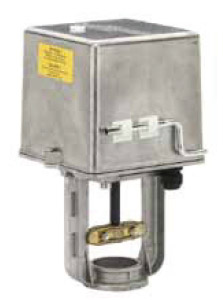 RA-3000 - Linear Actuators
for Plant Valves